James Mitchell
James William Mitchell was born in South Shields, County Durham into what he described as "cheerful poverty" in 1926, the year of the General Strike, the son of a shipyard fitter and organiser for the Amalgamated Engineering Union who became a Labour councillor and the Mayor of South Shields.
James won a scholarship to a local Grammar School and then one to St Edmund Hall, Oxford. After graduating, he was in turn an actor, a civil servant, shipyard worker, travel agent and courier, finally settling on a career in teaching. Although he travelled widely around the Mediterranean as a young man, he never forgot his Geordie roots. Writing in the TV Times in 1972, he said: "All the Geordies I have ever known have had this inexplicable love for the place they grew up in. Many of them travel vast distances from it, but most of them go back – to grime and harshness and a bitter north-east wind, but also to a matchless coast and a familiar dialect in the mouths of people they understand, who understand them."
His first novel was published in 1957 and over 30 more were to follow under his own name and the pen-names James Munro and Patrick O'McGuire. His greatest success though, came as a writer for television. He was said to be totally surprised when he was asked - "out of the blue" – to adapt his third novel, A Way Back, for television. His adaptation was broadcast as A Flight from Treason in 1960 and was to mark the start of Mitchell's long association with television drama. After contributing to series such as The Avengers, Z-Cars and The Troubleshooters, Mitchell moved to London in 1965 to concentrate on scriptwriting. In total, he wrote over 100 scripts and won the Screenwriters' Guild Award in 1970.
In February 1967, his one-off television drama in the series Armchair Theatre, A Magnum For Schneider, introduced the surly, complex and ferociously downbeat character of David Callan – a professional hit-man working for an un-named section of British Intelligence. As portrayed by actor Edward Woodward, Callan was to become an iconic figure of espionage fiction, appearing in novels, a film and an immensely popular television series (51 episodes between 1967 and 1972) which has recently been reissued on DVD.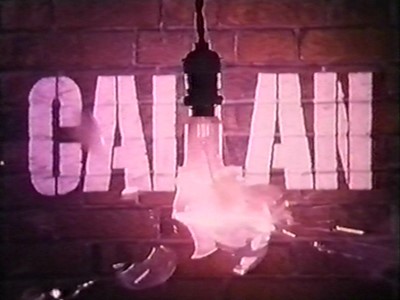 Often cynical and always unglamorous, Callan tackled the very dirty side espionage in direct contrast to the antics of James Bond and his many imitators whose fantasy adventures dominated the cinema screens of the time.(There were 22 new spy films released in Britain in 1966 alone.)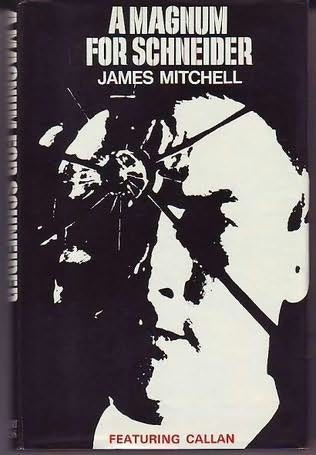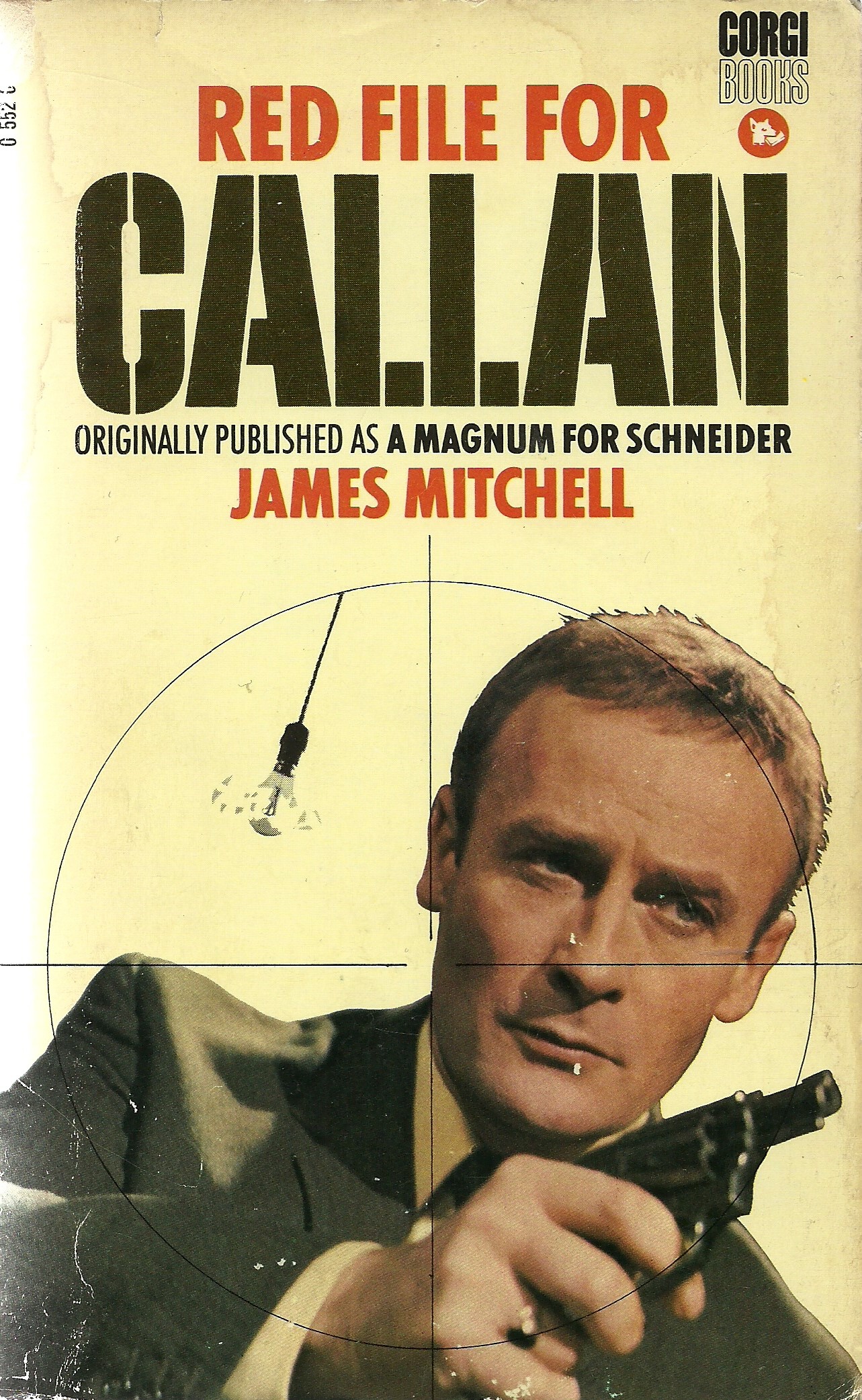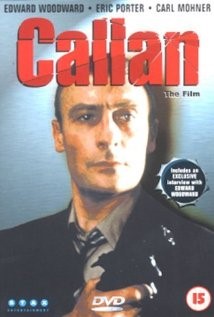 Mitchell's iconic spy was to appearing in five novels, a film, a TV movie and over a dozen short stories written for the TV Times and the Daily Express at the height of the television series' popularity.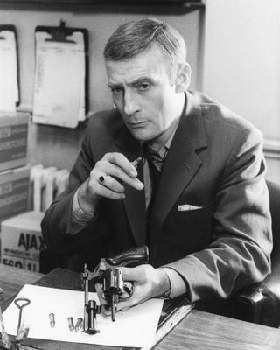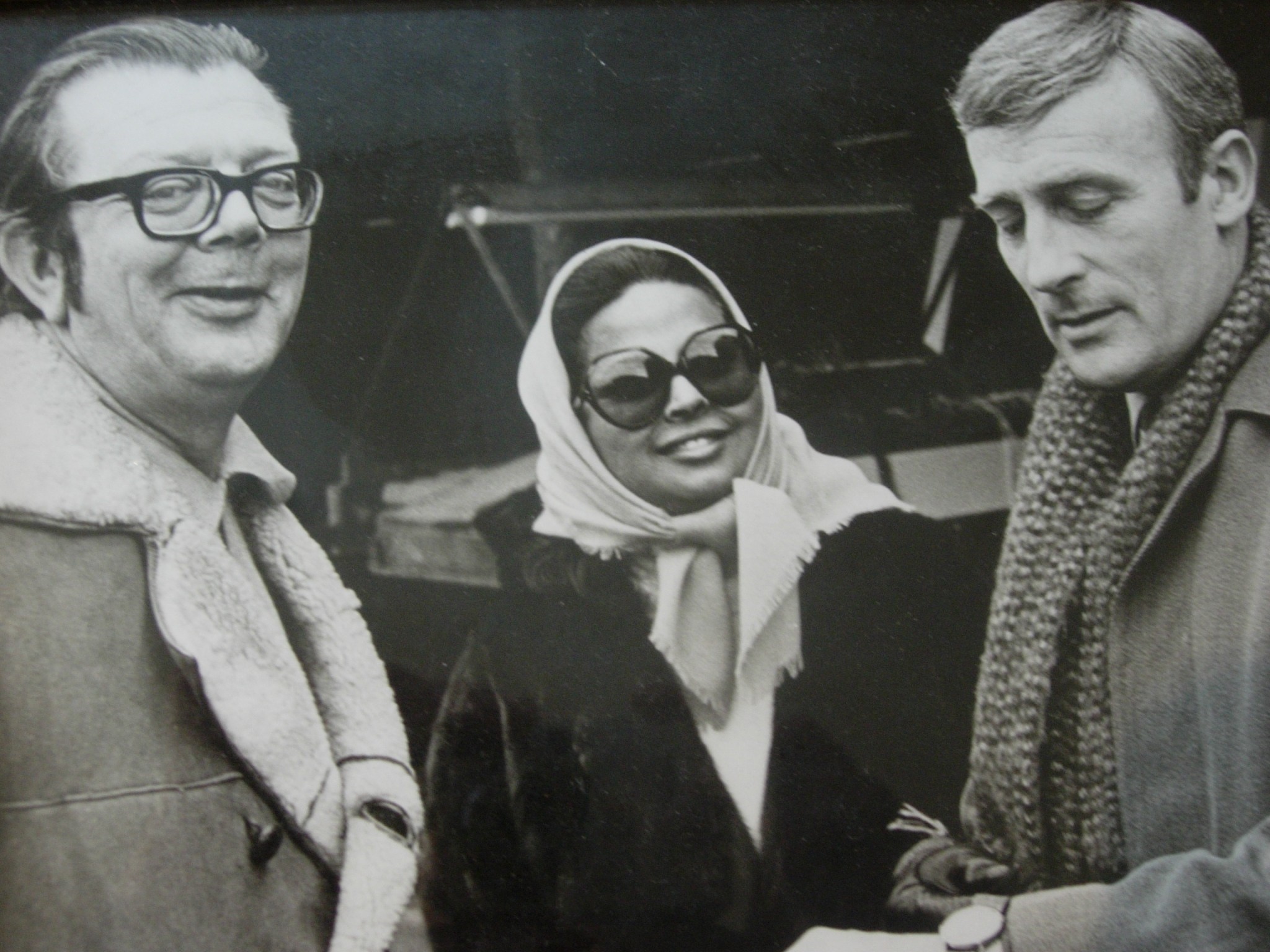 (Above) Edward Woodward as Callan in the television series and (below) James Mitchell and his wife Delia with Woodward on the set of the movie Callan in 1974.
After the success of Callan, James Mitchell chose, it seemed, to switch gears completely and created a dramatic historical saga set in his native north-east during the depressed 1930s. The result, When the Boat Comes In, was if anything, an even bigger hit than Callan, running for 51 hour-long episodes between 1976 and 1981 and attracting regular audiences in excess of 15 million.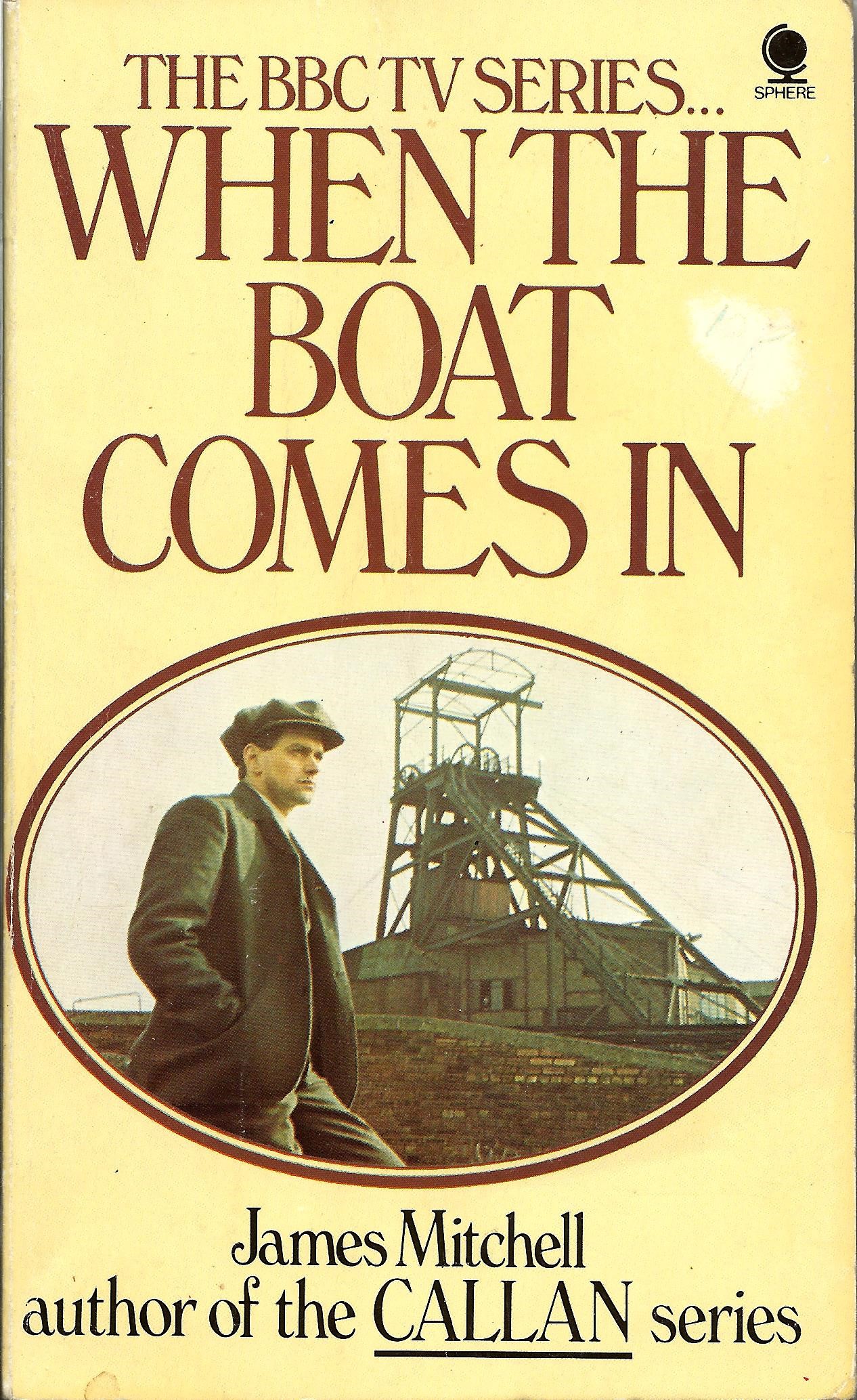 As The Guardian was to observe, with Callan and When the Boat Comes In, James Mitchell "was responsible for two of the most acclaimed, if contentious, television drama series of the late 1960s and 1970s" pointing out that both had dour, unglamorous heroes with dubious moral codes and both essentially "outsiders". When the Boat Comes In was also a notable success for its star James Bolam, previously best known as one half of the famous comedy series The Likely Lads.
Top Notch Trivia: One of the books to launch the Top Notch Thrillers imprint in 2009 was A Clear Road to Archangel by retired actor Geoffrey Rose, who played 'Arthur Ashton' in When the Boat Comes In.
In addition, Mitchell devised and contributed to many other television series, including Goodbye Darling, and created – under the pen-name James Munro – a tough spy hero called John Craig, who was seen as a serious rival to James Bond, in a series of novels, one of which – The Innocent Bystanders – was filmed starring Stanley Baker.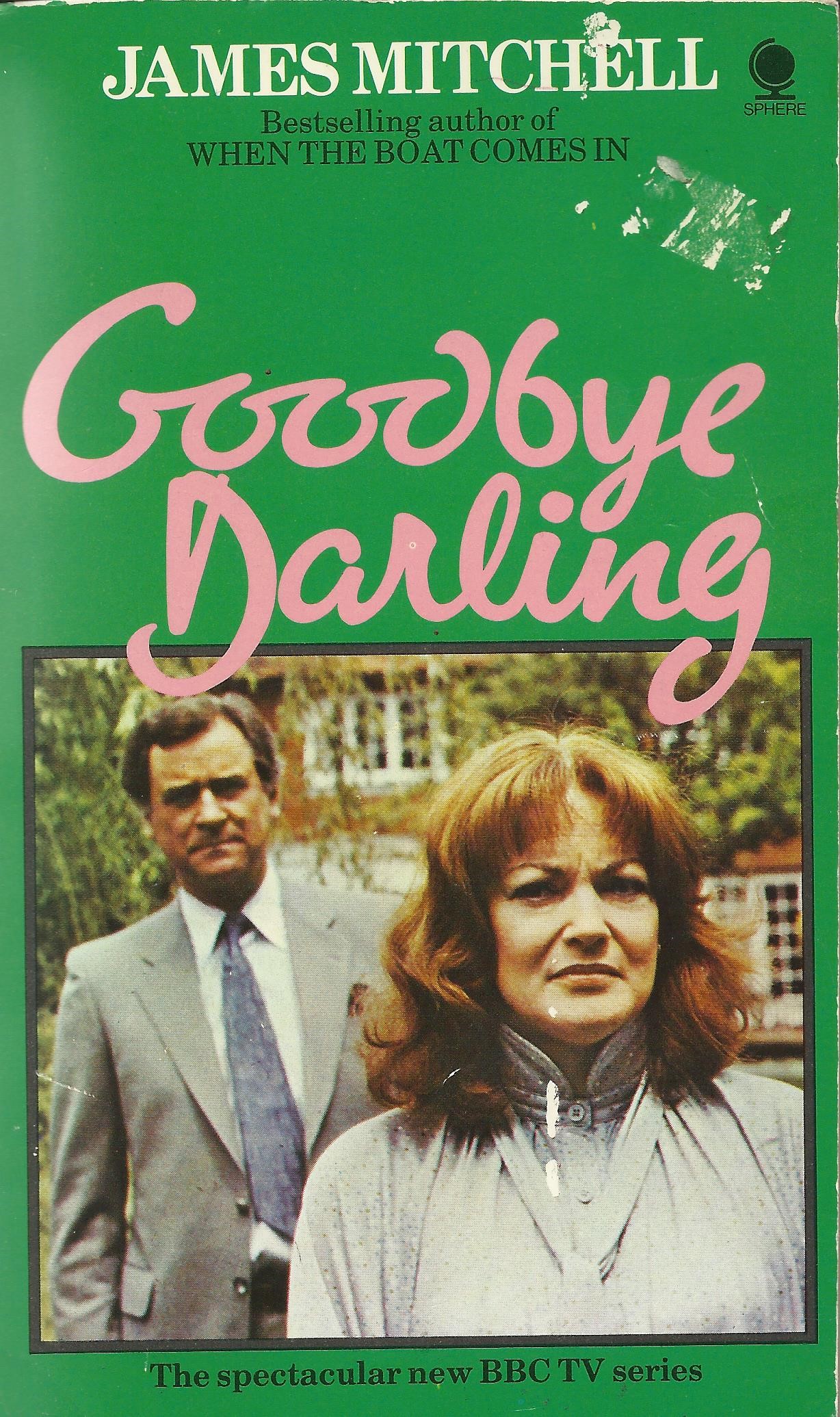 He died, back in his beloved north-east, in 2002. Randall Masteller, historian of the 'spy-fi' (spy-fiction) genre has written: "Mr Mitchell gave the spy-fi community two excellent agents: Callan and Craig. I thank the man sincerely for both."
Mike Ripley, October 2013.